Posted on May 22, 2018
Chef Santos' famous gourmet fare is going mobile with an upscale food truck experience.
May 22, 2018 (Paso Robles, Calif.) – Il Cortile Ristorante and La Cosecha Bar + Restaurant are proud to announce the launch of their new gourmet food truck. Called The Truck, this mobile restaurant will allow Chef Santos MacDonal to stage intimate private dinners, pop-ups and receptions in the North County of San Luis Obispo, from the beaches to the vineyards. The Truck takes Chef Santos flavors from Il Cortile and La Cosecha on the road.
Unlike many food trucks, The Truck can be customized to fit any and all experiences, and can include staffing, flat wear and the high level of service that has earned Il Cortile and La Cosecha national recognition from the likes of Wine Spectator and Sunset magazines.
While guests can to choose from menus from Il Cortile, La Cosecha, a combination of both, or anything guests can dream up. No matter the menu, Chef Santos is looking forward to shaping and customizing menus to fit each and every experience.
"I really wanted an additional outlet to express all the ideas I have in the kitchen and to help create one-of-a-kind menus,"says Chef Santos. "We just want to help create intimate and unique dining experiences for one-off events," says Chef Santos.
The Truck recently staged its first mobile private dinner for a local winery, and is available for bookings.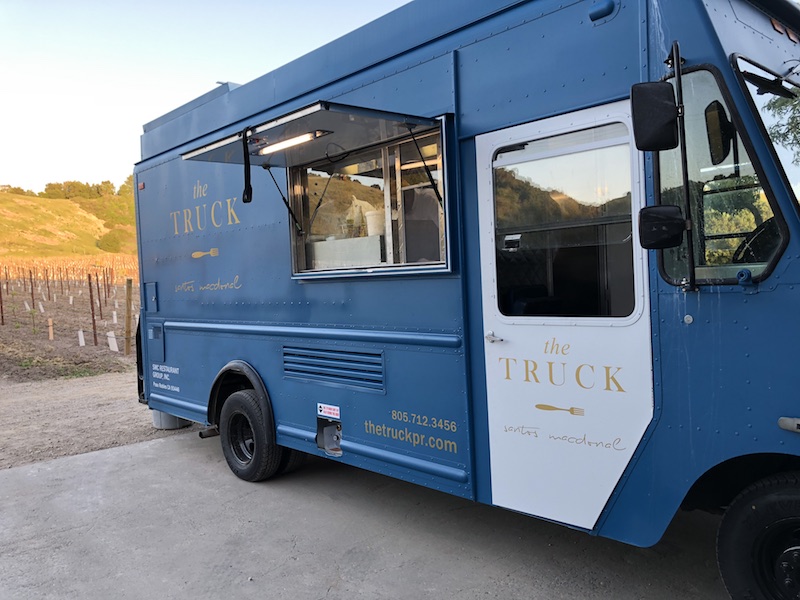 About The Truck
The Truck is a full service mobile catering company located in Paso Robles. Locally inspired and artfully directed by Chef Santos MacDonal, The Truck offers a wide range of menus for all occasions. To book The Truck, and for more information, please visit thetruckpaso.com.
About Il Cortile Ristorante
Il Cortile Ristorante is located in Paso Robles Wine Country, a top destination for exquisite wines, picturesque landscapes and beautiful weather - the perfect pairing for Executive Chef Santos MacDonal's rustic Italian cuisine. Owned and operated by Chef Santos and his wife Carole, the menus are seasonally inspired and created with the freshest ingredients. Chef Santos makes an array of exceptional homemade pastas, fresh seafood, top quality meats and antipasti. The wine list, inspired by Chef Santos' food, completes the dining experience. Visit Il Cortile Ristorante in downtown Paso Robles. IlCortileRistorante.com
About La Cosecha Bar + Restaurant
Spanish for "the harvest," La Cosecha Bar + Restaurant in Paso Robles is the second creation of celebrated Chef Santos MacDonal. Centering on the cuisine of Spain and South America, La Cosecha offers culture-specific, specialized Latin flavors by sourcing herbs and spices from each dish's nation of origin, while taking advantage of the farmer's market-fresh produce, meats, and cheeses of California's abundant Central Coast. Owned and operated by Chef Santos and his wife Carole, the menus are seasonally inspired and created with the freshest ingredients. The restaurant also features a craft cocktail menu designed to make use of garden-fresh ingredients and locally-sourced artisanal spirits. lacosechabr.com.